Sex toys for couples should be at the top of your to-buy list if you are looking to spice things up in the bedroom.
If your sex life isn't as pleasurable as it used to be or it feels monotonous, you should take steps to turn things around.
Introducing sex toys into your relationship is by far one of the simplest to bring back excitement into your sex life.
Presently, there are a lot of adult toys on the market. While some are designed for solo use, there are others that are made for couples. In this article, we will unveil some of the best sex toys for couples.
Top sex toys for couples
Bullet vibrators
Bullet vibrators are an excellent pick for couples new to sex toys, as they are compact and easy to use. Even more, they are affordable. So you don't need to spend a small fortune to get it.
There are tons of ways you can use a bullet vibrator to pleasure your partner. For example, you can use it to stimulate your partner's clit while having sex. Rubbing it against your partner's labia while fingering her will make her go wild. Keep in mind that bullet vibrators aren't designed only for stimulating the penis and the vagina. They can also be used during oral sex.
Wand vibrators can blow your bits to the stars
If you and your partner are looking for a toy that packs a punch and can help you achieve strong orgasms, you should opt for a wand vibrator.
Unlike a bullet vibrator that is compact, a wand vibrator is large and has a very powerful motor. With it, you can stimulate a wider area.
Wand vibrators are designed exclusively for external use. If you want to use them for penetration, you may have to buy some additional attachments.
Pleasuring your partner with a wand vibrator is super easy. All you need to do is to place the vibrator on your partner's anus or clit. The intense vibration delivered by the device will relax their muscles and prepare them for anal penetration.
The only downside of wand vibrators is their weight and size. If you have wrist pain or low grip strength, you may not be able to use it.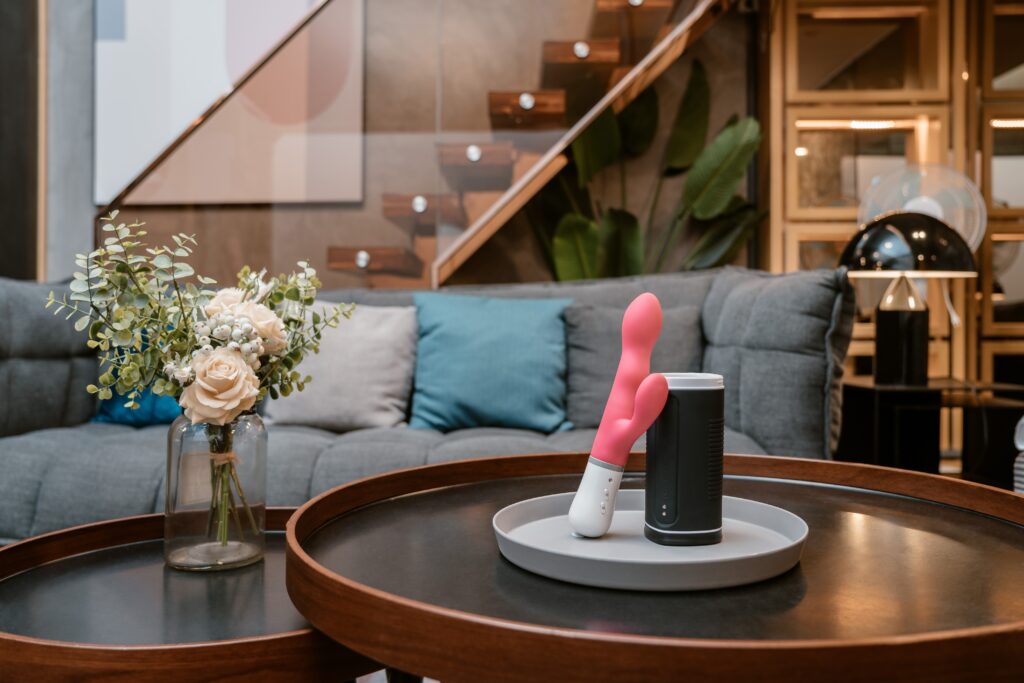 Dual or Rabbit vibrator
Rabbit vibrators can stimulate the clit and the vagina at the same time. Since they are usually curved, they can access the g-spot easily. Rabbit toys usually have two motors that can be controlled individually. They are easy to use and have several speed settings and features that will help your partner achieve boundless pleasure.
Suction toys
Suction toys are an excellent option for couples who are looking for something unique. A suction toy may look like a clitoral vibrator, but they aren't the same. Suction toys are designed to cling to the clit and deliver soft air pulses.
Suction toys are compact, lightweight, and fun to use. They have a handle that will help you place them on the clit during intercourse. Some suction toys on the market have a special mode that reduces the noise generated by the device.
Suction toys can do a lot more than simulate the clit. They can also be used to stimulate the nipples.
Butt plugs –Best sex toys for couples who want to embrace their adventure side
Couples who are feeling adventurous or want to try new things are definitely going to love butt plugs. Unlike other sex toys listed above, butt plugs can be used by both men and women. What's interesting is that you can don't have to move it back and forth to pleasure your partner.
After inserting it into your partner's ass, you can choose to engage in oral sex or intercourse. Regardless of what you do, your partner is going to love it.
Whether you opt for a small or a large butt plug, you should always use it with lube. As you likely know, the anus doesn't self–lubricate. So if you use your anal toys without lube you may injure yourself.
Penis vibrators
Technically, you can use any sex toy that vibrates to stimulate your penis. But if you are looking for a toy designed specifically for penis stimulation, you should opt for a penis vibrator. These devices can be wrapped around the penis. They can also be used to stimulate the head of the dick.
Penis vibrators may come in handy when you and your partner are masturbating together.
Final note
There you have it, the best sex toys for couples. Before opting for any of the toys on this list, you should first discuss it with your partner. It is best both of you unanimously choose a toy. If you are new to sex toys you should opt for something lightweight and easy to use like a bullet vibrator.