Everyone chooses the way they want to feel their love, each person lives their sexuality differently, and that is why it is essential to take into account your preferences when acquiring a sex toy.
Choosing a sex toy is not an easy task, especially when pleasing our demanding erotic desires. Long, textured, real-shaped, or with different vibrations? Everyone is different, and fetishes vary, as do colors. Whether as a couple or for your satisfaction, it is best to choose the right device and enjoy it to your satisfaction.
The market offers a great variety, and it is difficult to know which sex toys suit your needs. You need to know how to choose the most suitable one. You need to have a clear idea of what sex toy type you want: vaginal, clitoral, or both. The most suitable sex toy for you will be the one that stimulates the erogenous zones that are most sensitive to you. Do you want to make sure you'll like it, but maybe you don't know how to choose? Do not worry! This article will provide you with a complete guide to choosing a sex toy.
What to consider when choosing a sex toy for you
1. Know what you like and cause you pleasure
Given the great variety of size, shape, colour, and functionality, ask yourself what you like and what causes you pleasure. When you have an answer to this, you will be ready to buy a sex toy that helps you live masturbation to the fullest. You will also be able to take your sexual relations as a couple more satisfactory and, probably, more fun.
You should not look for that sex toy that is fashionable or the best seller of the moment. You buy one that improves the connection with your body and your sensations when practicing sex.
If you are going to use it as a couple, both parties must know that it is a free and personal decision and that they always agree. Know the shape you like. Suppose you prefer it stiffer or softer. And do not be ashamed when going to a store specializing in these products and ask until you find what you want!
2. Ask yourself which area you want to stimulate
Basic logic tells us that there is only one place to use it, but no. The offer is so broad that it can be overwhelming. Therefore, think about where you would like to use it. If you want something simple to start with, go for a bullet-like vibrator. It allows you to explore the sensations in the vulva, clitoris, and the entrance of the vagina. A proper sex toy for you will make sex or masturbation more pleasant and positively affect pelvic tissues.
It is not the same if you want to improve sensitivity in the clitoris as in the G-spot. Look for information about which toy you need. There are different sex toy types. There are not only suctions but also internal vibrators and anal vibrators.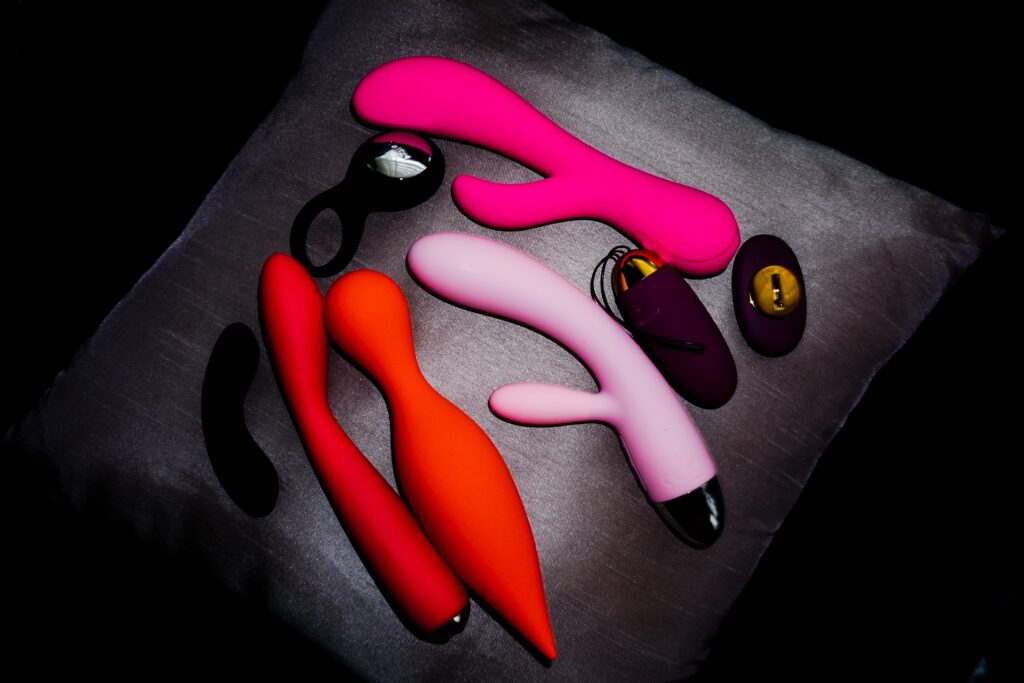 3. Get a sex toy that suits you.
People believe that the larger the vibrator, the more pleasure it can provoke when using it. It is not so. There are times when a smaller and narrower one can generate greater pleasant sensations. It is best to start with small sex toys that facilitate penetration and not cause pain if you are a beginner.
4. How and where are you going to use it
Consider where you would like to use it, for example, under the shower. If so, you should consider that the product you choose is submersible. Also, reflect on why you are going to acquire it, whether to energize pre-coitus games with your partner, complement some postures, play alone, or even wear it above clothes.
5. Don't skimp on the price.
Look for good quality materials. Think that it is a product that will contact your skin and very sensitive areas of your body, so quality is essential. You can get sex toys containing medical silicones that are very soft to the touch and resistant to the accumulation of bacteria. It may be expensive since if the material is not good, it can cause infections and even become carcinogenic.
6. Check the materials a toy is made of
Do you have any allergies? Health is at stake here too. For example, there are people with latex allergies, so maybe you could opt for glass toys. Some are Thermo conductive and cause a very pleasant feeling of cold or heat.
Sex toys are made of different materials, so you must choose one that makes you feel comfortable. There are latex, silicone, plastic, ceramics, and even metal. Think about whether you want a hard or flexible one, cold or hot, for water or rechargeable. There is a lot to choose from!
Silicone is the most popular option since it does not present any chemical toxicity that can give some reaction. Also, it adapts very quickly to body temperature. PVC is also widely used. It is cold to touch, has very high strength, and is combined with silicone to cover the toy. This is compatible with both water-based and silicone lubricants. There is also gelatine (more elastic and realistic as it resembles human skin). Also, we have those made from stainless steel. They are very resistant and not porous but heavier than the rest.
7. Pick a sex toy that is easy to clean
Consider that this point is vital, and even if it is a device just for you or your partner, you must clean it before and after using it. Remember that a sex toy will be used for sensitive areas susceptible to infections, so it must be easy to clean.
Remember that these toys are in direct contact with the skin and genital areas, very sensitive, and prone to infections. To not risk our health, it is essential to use a sex toy that is easy to clean after using it. Cleaning must be carried out to avoid the accumulation of bacteria.
There are cleaners suitable for sex toys that use soaps adapted to preserve one hundred percent of the material it is made.